---
---
From our golden, High-Quality [Natural Springs]
welled from 1,500m below sea level,
the spacey [Far-Infrared Dome] heated with lava stones straight from Mt. Fuji,
the Bali-Style [Bedrock Bath],
the [Nano-Mist Sauna] utilizing a minimized mist particles,
there are numerous styles to choose from for you
to relax and take in the atmosphere to your liking.
---
Spa

Cotton Springs, Harbor Springs

Golden All-Natural Spring Bath welled from 1,500m below sea level.
Also known as the [Spring of Beauty] due to its High-Quality and density.
Take it all in with the soothing ocean view and the sea breeze.

Inner Bath

The inner bath is a smooth white bath with enveloping sunshine during the day.
Event bath for every 26th (Bath day) of the month.

Spalaza

Nano-Mist Sauna: Low in temperature of 40 to 43 degrees C, warmth sure to engulf you without the stress.
The steam minimized down to nano level will permeate throughout your body, accelerating perspiration, Detox effect and metabolism.

Bedrock Bath

Utilizes [Impala Black Stones], known for emitting Far-Infrared rays.
The surface of the Jet-Black stone is kept to optimal temperature, and we recommend starting with warming up you inner body by lying face down.
Enjoy your healing process along with the soothing aroma.
* Available in unisex or women only.
* Please dress into the proper attire designated by the establishment.

Far-Infrared Dome

The dome is warmed up by heating lava stones from Mt. Fuji in a Kiln of 800 degrees C.
The Red-Hot Lava stone radiates massive amounts of Far-Infrared rays, Vanadium and Negative Ion, warming up your body from deep within the core, reactivating your cells.
Anyone can enter the Hot Yoga & Stretch exercise held daily.
* Please dress into the proper attire designated by the establishment.
Our recommendations!
Hot Yoga & Stretch exercise
[Yoga] and [Stretching] Lessons are available free of charge on a daily basis within the dome.
The fitness trainer will lead you in an easy to follow fashion even for the First-Timers.
Please feel free to join us.
* Please dress into the proper attire designated by the establishment.
Overlook Terrace
The nightscape between the Bay-Bridge and Minato-Mirai is a thing of beauty that simply takes your breath away, and is one that's also been Well-Praised by numerous critics.
During the summertime, water will be spread out for you to sink you feet into, which, in combination with the Nightscape and the Fire Objet d'art, creates a surreal atmosphere that will surely cool you down after a session within the Dome or the Lava Stone Bath.
Chef will provide you with numerous creative dishes here,
all with consideration to your [Beauty and Health] in mind and heart.
Please be sure to try out
the dining experience of [Gaza].
---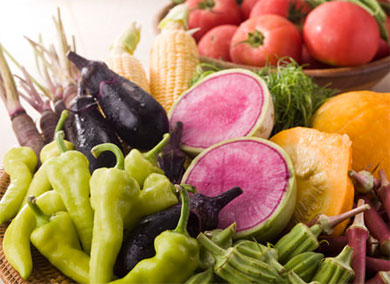 Restaurant [Gaza] is committed to
[Morning Harvested Seasonal Vegetables] straight from Miura Farm.
Seasonal dishes using plenty of fresh vegetables harvested the morning of that day at the Miura Farm.
Enjoy the [Appetizer Buffet] with loads of Miura vegetables for Lunch, and the vast selection of seasonal dishes for Dinner.
---
Lunch Menu
(Price without tax included)
Gaza Lunch (90 minutes)
[5 Main dishes to choose from] and the [Appetizer Buffet] comprised of
[Morning Harvested Seasonal Vegetables] straight from Miura Farm.
¥1,700+tax
Select 1 main dish of the following ingredient: [Meat], [Fish], [Pasta], [Soup] and [Rice]
Freely choose your sides and refreshments out of the [Appetizer Buffet]
comprised of vast selection of seasonal vegetables freshly harvested on that morning from Miura Farm, the [Drink Bar] and [Desserts].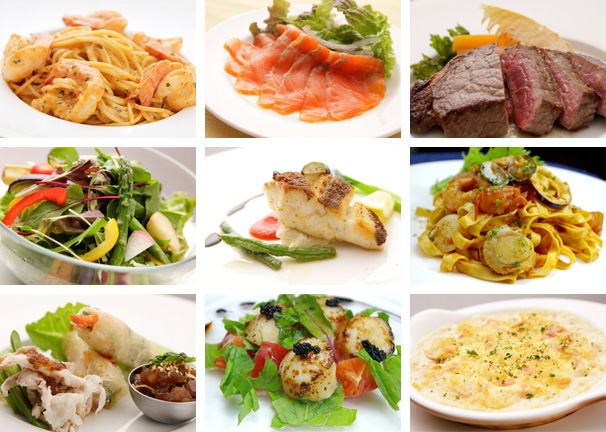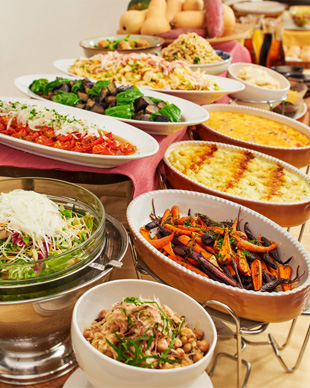 *Sample Images
ex)
[Meat]   
Honey-Spice-Roasted Thigh meat of Abe Chicken

[Fish]   
Whitefish Fritters with Herb Mayo

[Pasta]   
Tomato Sauce with Bacon and Broccoli

[Soup]   
Fisherman's Clam Chowder

[Rice]  
Marinated Norway Salmon with Salad on a Rice Bowl

[Steak]  
Aged Top Blade Beef Steak
(Steaks ¥500~ extra)
*The contents will vary depending on that day's availability
---
Special Offers
* Please inform the staff upon entering the Resort of your Package plan.
---
Dinner Menu
(Price without tax included)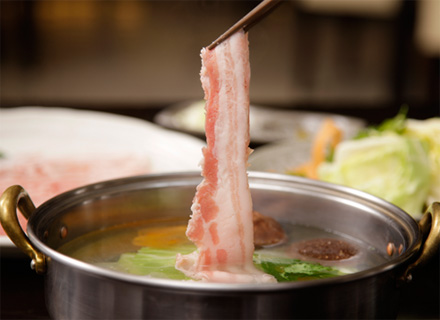 INSPA YOKOHAMA Speciality
Kinako-Pork Shabu-Shabu
¥2,000+tax *Can be ordered from single serving
* Kinako-Pork Spare-Rib slices (140g)
* Assortments of 5 types of Vegetables (Types may vary depending on the Seasons)
* Soba-Soup, Condiment (Grren Onions, Yuzu Pepper)
* Soba

[Additional Shabu-Shabu Ingredients]
* Add Kinako-Pork (120g) ¥900
* Add Vegetable ¥400
* Add Soba ¥150
* Add Condiment ¥300
* Add Seasonal Vegetables ¥500
* Yuba for Shabu-Shabu ¥400
* Shabu-Shabu Mochi (Rice Patties) ¥300
* Sashimi Konnyaku ¥300
Café & Bar [INSPIRE]
Spend a Fine day in the terrace with a view
Enjoy a peaceful day in the sun on the terrace with a view of Minato-Mirai.
This is the only location where you can get the full panoramic view of this beautiful view!
The feel of the sea breeze alone will surely heal you from your daily lives.
* Dining on the terrace is only available during summertime.
Enjoy your favorite Past-Times watching games on the big screen, tossing darts
Periodical events are also held such as live performances by professional artists,
[INSPA Compa!] an INSPA-Hosted party. Also available for private parties.
---
Access Details
15-2 Yamanouchi-cho, Kanagawa-ku, Yokohama,
Kanagawa Prefecture 〒221-0054
045-451-4301
[Courtesy Bus Stops]
・Yokohama Station East Exit (Amano Building)
・Higashi-Kanagawa Station/Nakakido Station (Near Underpass)
・Minato MIrai Station (TSUTAYA)
・Shin Takashima Station
・Takashima Chuo Kouen [Takashima Central Park] (Urban Tower)
[Travelling by Train]
・Courtecy Bus available from JR Higashi-Kanagawa Station/
Keikyu Nakakido Station (5 min intervals)
・Public Bus available from Yokohama Station (10 min intervals)
[Travelling by Automobile]
・Apprix. 5 min from Higashi-Kanagawa I.C. Metro Express
Veer towards Mizuho Wharf from [Kanagawa 2-chome]
intersection on National Highway 15.
(Turn Left if coming from Kawasaki)
Turn right on the 2nd light [Chiwakacho 2-chome],
then proceed down the path.
*200 Car Parking Space Available
¥150 for up to 3 hrs, ¥300 per 30 min extensions
---
Hours

---
1-Day Resort Rates
Many other combination Plans including the Entry Fee is available.